DOUBLE COUP FOR GRIMALDI FORUM MONACO!
The Principality's convention and cultural center has just achieved
its first ISO 20121 certification

and

its sixth ISO 14001 certification

, two internationally recognized benchmarks in environmental protection and sustainable development.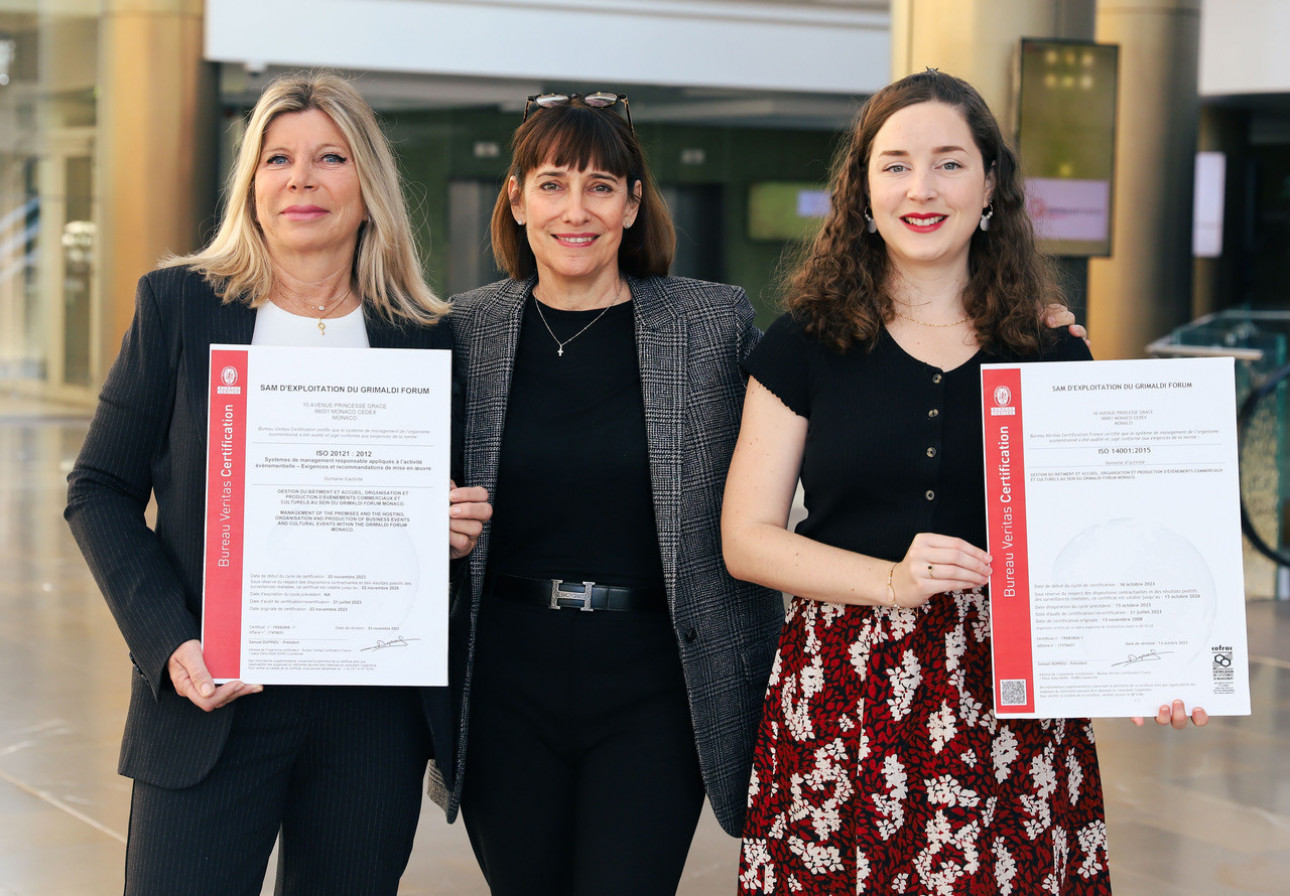 This first ISO 20121 certification is the crowning achievement of the Grimaldi Forum's commitment to Corporate Social Responsibility for its event activities, and the first of its kind in the world.
According to Sylvie Biancheri, General Manager of the Grimaldi Forum, "We were already naturally very involved in CSR, and our customers praise the Grimaldi Forum for its ability to support them in this area. This certification has enabled us to structure and formalize our approach, in addition to our strong environmental commitment."
Indeed, since its foundation in 2000, the Grimaldi Forum's management approach has been centered on the human factor, based on the values of benevolence, fairness and sharing. This is reflected in the fact that 100% of our permanent employees have open-ended contracts, enjoy a three-year training plan, are covered by personal risk insurance, can work from home once a week, etc. The men and women who make up our permanent workforce come from 20 different nationalities and occupy all positions within the company; for example, 46% of managers are women, 55% of employees have been with the company for more than 10 years, and 25% for more than 20 years.
As a value creator in its region, the Grimaldi Forum manages, in addition to its 140 permanent employees, some 300 temporary contracts, and indirectly employs 700 suppliers and service providers, representing an estimated pool of over 5,000 jobs in the Principality and surrounding area. The Grimaldi Forum also supports a wide range of local charities, encouraging its employees to get involved. Each year, these employees are offered one day's work to support the charity of their choice in Monaco. The fight against food waste and hand-to-mouth existence is another priority: in collaboration with the Principality's charities, the Grimaldi Forum redistributes uneaten foodstuffs at its events.
In the wake of Monaco's proactive sustainable development policy, CSR is in the genes of the Grimaldi Forum, which has added a sixth ISO 14001 certification to its first ISO 20121 certification. Certified for the first time in 2008, it was one of the first convention centers in Europe to obtain this prestigious seal of approval.
Designed and managed in an eco-friendly way, the building produces no greenhouse gases, benefits from natural thermal insulation, uses seawater and groundwater for air treatment, and is monitored by a centralized technical management system with 20,000 control points. Over the past fifteen years, it has improved its energy efficiency by 35% (by consuming 100% green energy), multiplied its waste sorting rate by 2.5 and divided its water consumption per visitor by more than 2! Boasting 2,500 m2 of photovoltaic panels on its roof, it is also Monaco's leading producer of solar energy. By encouraging responsible purchasing and the sharing of good practices, the Grimaldi Forum has rapidly achieved "zero plastic," uses certified paper and wood, works with committed local caterers, and produces event consumption reports for its customers, including energy, water and waste sorting.
Involving customers, business partners, authorities, employees and suppliers, the Grimaldi Forum's CSR project brings together all its stakeholders with the aim of achieving mutual progress. The project is steered by the ISO Committee, made up of 16 members representing all the company's departments, and headed by Françoise Rossi, CSR Director, and Maureen Aubert, Environment, Certifications and Legal Affairs Manager. Together, they are committed to the Principality and the events industry, in the service of a sustainable society for future generations.
📸 : © Grimaldi Forum Monaco
In the middle, Sylvie Biancheri - Director General. To her left, Maureen Aubert - Legal Officer & Environment and Certifications Manager. To her right - Françoise Rossi - CSR Director.