18th M&IT AWARD FOR THE GRIMALDI FORUM MONACO!
For the 18th time in its history, the Grimaldi Forum Monaco was awarded on Friday, September 15th, in London in the category of Best International Conference Center "Silver Award" . Presented by M&IT, one of the most influential media outlets in the UK's MICE industry, this award represents a tremendous acknowledgment of the Grimaldi Forum on the international stage.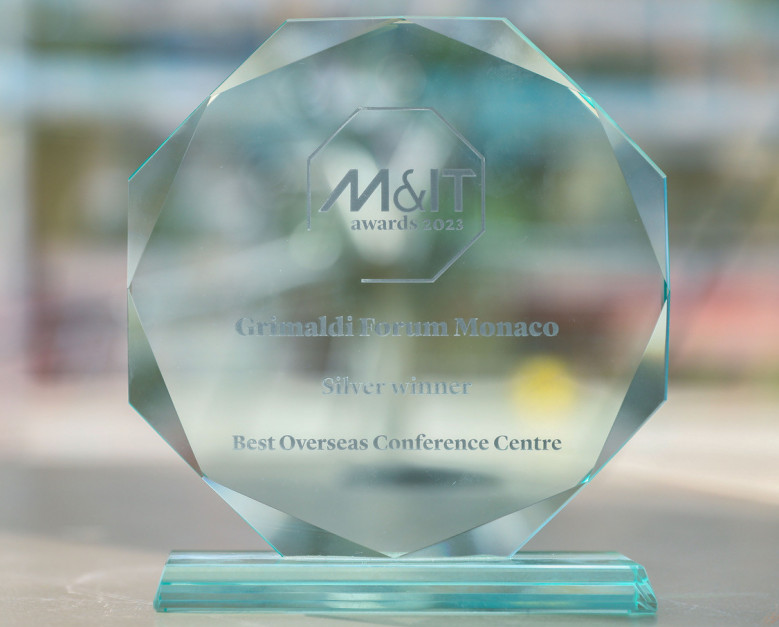 This year, the Principality's conference center has risen to the second place, just behind the Dublin Convention Center and ahead of the PortAventura Convention Center in Spain, both of which are also industry references. Among the nominees were Amsterdam, Barcelona (twice), and Copenhagen.
To make the joy complete, the Grimaldi Forum team was alongside the Monaco Convention Bureau, which was awarded Best Foreign Convention Bureau (Gold).
With each event, the Grimaldi Forum demonstrates its ability to achieve excellence in hosting and delivering prestigious events, allowing it to build a strong client portfolio, with more than 35% being recurrent clients.
In less than 25 years of existence, it has received no less than 25 awards in total, a testament to its professionalism recognized by its peers:
Between 2003 and 2023, 18 M&IT Awards*

In 2003, the IAPCO Award in 2003 (International Association of Professional Congress Organisers)

In 2008, the Eventia Award in 2008 (Canon World Congress)

In 2010, the Coolest Award Venue

In 2015, the Coup de Cœur Award from the Club de l'Eco Nice Matin

In 2018, recognition of GFM for its structured and regular action plan as part of its commitment to the Charter on Wood promoted by the Prince Albert II of Monaco Foundation

In 2019, the eco-responsible award received at the 7th Monaco Hospitality Award from the AIHM

In 2021, at the Annual Conference of the Monaco Mission for Energy Transition, the GFM was recognized for one of the best Monegasque initiatives in waste reduction alongside the CHPG and the Odyssée trade fair.

Including 8 Gold (2003, 2004, 2005, 2007, 2008, 2009, 2010, 2011), 8 Silver (2006, 2012, 2013, 2014, 2015, 2020, 2021, 2023), and 2 Bronze (2017, 2022).
In the photo: Julie Caprini, Commercial and Sales Director, and Ewald Fischer, Commercial Development Manager responsible for the UK/US/Germany markets, from the Grimaldi Forum, who brought home this trophy.